Retirement Benefits Schemes allow members to make regular contributions during their working years and once a member retires, these contributions plus accrued interest are utilized to provide retirement income to the member. Key to note, the pensions industry in Kenya has experienced steady growth over time, with the assets under management having grown at a 10-year CAGR of 14.4% to Kshs 1,547.4 bn in 2021 from Kshs 403.2 bn in 2011. However, pensions uptake is still low with only 12.0% of the adult population in the labor force saving for their retirement in retirement benefits schemes as of 2021. The chart below shows the growth of Assets under Management of the retirement benefits schemes over the last 10 years:

Source: Retirement Benefits Authority (RBA)
Despite the steady growth, we note that people continue to prefer saving using other channels like banks and saccos. Below we highlight the 10-year CAGR of pension schemes' Assets under Management against other capital markets products and Bank deposits: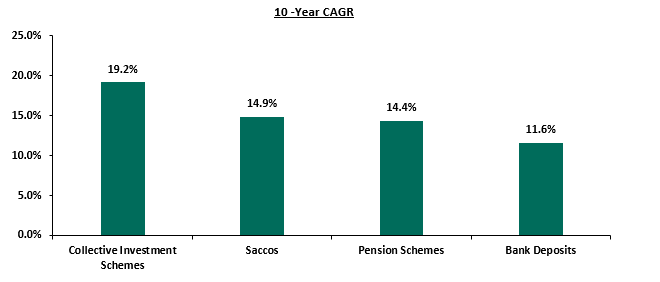 Source: Sasra Annual Reports, Central Bank, Retirement Benefits Authority (RBA), Capital Markets Authority Quarterly Statistical Bulletin
It is worth noting that despite the slower growth in bank deposits, they carry the bulk of savings as evidenced by the increasing bank deposits at Kshs 4.4 tn compared to the Kshs 1.5 tn pensions assets under management as of Q1'2022. As such, we believe that employers have significant roles in ensuring secure retirement among employees by creating a welcoming environment for employees of all ages. Similarly, the employees themselves have a huge role to play in ensuring a decent retirement. Some of the different ways of improving retirement prospects in Kenya include;
Recommendations for Employer:
Offer a Retirement Plan or join an Umbrella Retirement Plan

– Firms can offer retirement plans to their employees to encourage them to save for their retirement. However, if the employer has no occupational retirement scheme for the employees or does not have the capacity to start one, they can join an Umbrella Pension Schemes which reduces the average cost per member and provides an avenue to save for retirement,

Increase efforts to reduce the number of withdrawals in the retirement plan

- Employers should create awareness among employees about the ramifications of undertaking premature withdrawals from retirement accounts. Employees should understand and come up with ways of dealing with non-routine and emergency expenses, which will offer employees alternative ways as opposed to withdrawing the retirement benefits,

Help pre-retirees plan their transition into retirement

– Employers can help pre-retirees by educating them about retirement income strategies to efficiently manage savings and retirement plan distribution options,

Allow part-time employees to join retirement schemes

– Firms should encourage part-time employees to join retirement schemes by extending retirement plan eligibility to such groups, and the necessity of back-up plan if forced into early retirement,

Expected returns

– Employers should select providers whose return rate is high enough to ensure a sizeable growth for the retirement savings. The appropriate rate of return should always be higher than the inflation rate to ensure a positive real return by not losing value over time, and,

Extra benefits

– Employers should recommend to workers schemes that will offer extra benefits in terms of insurance covers and health care benefits. Such complimentary benefits would improve the quality of a retirement plan.
Recommendations for Employees:
Creating a budget

– Employees should have a budget to guide on how to spend on expenses and remain with income to save for retirement in a suitable scheme,

Have a back-up plan

– Employees should have backup plans in case of job loss or early retirement arising from accidents or ill-health,

Affordability and flexibility

– As an employee, it is essential to select a retirement plan that will not strain you in terms of contributions. Additionally, you should look into the flexibility of the plan in terms of changing the contribution amount and measures, if any, should you miss a contribution,

Understand the various options available

– It is prudent to understand how your money will be treated, its accessibility, and the mode of payment at the time of retirement to ensure that its features align with your objectives. Schemes have different provisions on whether you can use your savings to secure mortgage facilities or even buy a residential house, and,

Select a manager you trust

– Retirement benefits plan is a long term affair and the only way to feel secure about your contributions is by selecting a manager you trust. Key to note, a trustworthy manager should have good governance structures and management experience.
Even as we commend the Kenyan government for demystifying retirement benefits by making the services readily accessible, we believe that the current pensions system still leaves many pockets of the society uncovered or with insufficient funds for retirement. We note that the pensions uptake remains low in the country, putting more people at risk of old age poverty. However, we expect the growth trend to continue in the coming years as the economy recovers and more people understand the importance of saving for retirement. The key challenge remains how fast the government comes up with ways to expand the pensions coverage in Kenya and how best to persuade the working population to save enough money for retirement.
For a detailed analysis, please see our topical on the Progress of Kenyan Pension Schemes-2022.